Origin of black tea
Black tea (also known as black tea) is made from the leaves of the Camellia Sinensis tea plant. The origin of black tea is from green tea, but what makes it different is the processing process. Black tea is made from fresh tea leaves that are fermented (oxidized) from 60 to 100%.
Around the 16th-17th centuries, black tea was first discovered in China. Only then was it imported to Europe. Over time, black tea became a familiar drink for Western people. During the French colonial period, Vietnam was also one of the main plantations exporting black tea to Europe.
 Some information about Black Tea OP 
Black tea OP refers to a type of black tea that is made from the Camellia sinensis plant, which is grown in various regions around the world, including India, Sri Lanka, China, and Kenya. "OP" stands for "Orange Pekoe," which is a term used to describe the size and quality of the tea leaves. 
Orange Pekoe refers to high-quality, whole tea leaves that are picked from the top of the tea plant, and they are generally larger and more mature than other types of tea leaves. OP teas are often characterized by their full-bodied flavor and aroma, and they can be enjoyed on their own or with milk and sweetener. 
Black tea OP is a popular tea variety that is enjoyed by tea lovers all over the world, and it can be found in a variety of blends and flavors, including Earl Grey, English Breakfast, and Darjeeling.
Black tea OP in Vietnam 
The main raw material area for black tea production is in the mountainous provinces of North Vietnam. Due to the suitability of climate and soil along with improved techniques of slow fertilization, Vietnam's OP black tea quality is not inferior to that of India, Sri Lanka, or China. OP is one of the premium tea lines. The taste is sweet, slightly acrid, and slight fruity. The water has a beautiful amber color.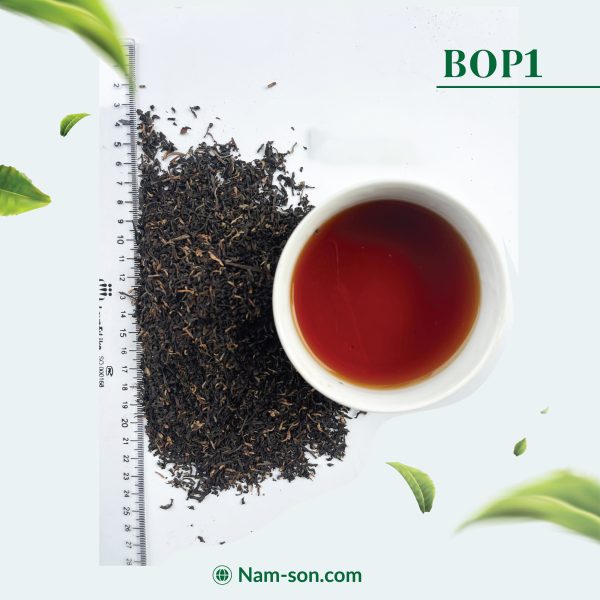 The quality black tea harvested from Lao Cai, Sapa, and Lam Dong is appreciated higher than in other regions. That will be the tea area that achieves European standards or other countries with high-quality requirements. However, the tea material area is in Phu. Tho, Yen Bai, and Tuyen Quang are the main raw material areas to create tea for export to countries on the world.
When it comes to black tea, many people will think of Breakfast tea or Earl Gray tea. With processing techniques and available ingredients today, young Vietnamese people also know a lot and love the taste of milk tea is the black tea from Vietnam. 
OP black tea of Nam Son Company
With many years of experience in tea production and processing, as one of the reputable tea exporters assessed by the Ministry of Industry and Trade of Vietnam, along with the available raw material area, the factory has achieved certificates of European standards and international standards of demanding markets. The NAM SON CO., LTD will be a reliable choice for domestic and foreign customers.
Please to contact us via
  email: [email protected]
Tel: 84904 549 449,
For the fastest information on the types of tea, you are in need of.